Description
Ubiquiti UniFi Dream Machine Access Point, Switch, Security Gateway (UDM)
The Ubiquiti UniFi Dream Machine (UDM) is an all-in-one device with access point, four port switch and security gateway router. The UniFi Dream Machine is a simple way to introduce UniFi to homes and businesses. It includes everything you need for a small-scale wired or WiFi network with all the benefits of UniFi, the revolutionary WiFi system from Ubiquiti.
Ubiquiti UDM Key Features
High‐Performance Dual Band 802.11ac 4×4 Wave 2 AP
Managed 4-Port Gigabit Switch
Advanced Security Gateway with IDS/IPS and DPI
UniFi Network Controller with Intuitive User Interface
Scalable Through Additional UniFi Devices Connected to LAN
Powered by Fast 1.7 GHz Quad-Core Processor
Powered by a fast 1.7GHz quad-core processor, the UDM combines multiple functions into a single elegant device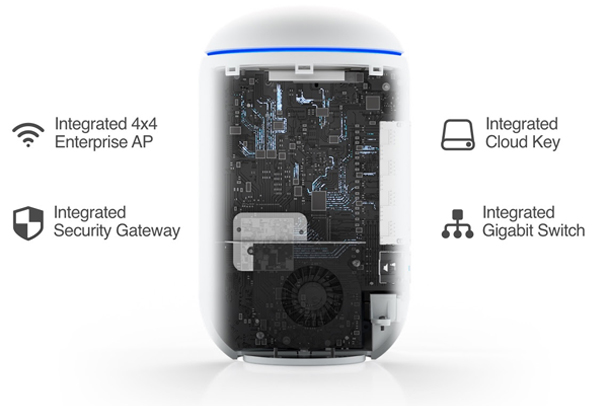 High-Performance Antenna
802.11ac Wave 2 4×4 MU-MIMO for 5 GHz and 802.11n for 2.4 GHz
Advanced Security
Threat Management with IDS/IPS and DPI
Processor
ARM Cortex-A57 Quad-Core at 1.7 GHz
Ethernet Ports
5 GbE Ports: 1 WAN and 4 LAN
VLAN Support
Security and Traffic Management
Secure Communications
VPN Server
QOS
Enterprise VoIP
UniFi Network Controller with Intuitive User Interface
Centralised management software featuring a graphical user interface offers easy setup and convenient control.